On April 19, 1914, the Ephor of Antiquities Georgios Oikonomos wrote that on his tour to "Kalivia of Karitsa", i.e. the outskirts of Malathria (nowadays Dion), he located two joining fragments of an inscription that had been built into the small post-Byzantine monastery church of Saint Paraskevi. These inscriptions had not been noticed by the French archaeologist L. Heuzey during his visit in 1861, probably because they were built into the wall in 1911, when the west side of the church was restored. This church was burned down in 1965; the two fragments, adhered together, are now exhibited in the Archaeological Museum of Dion.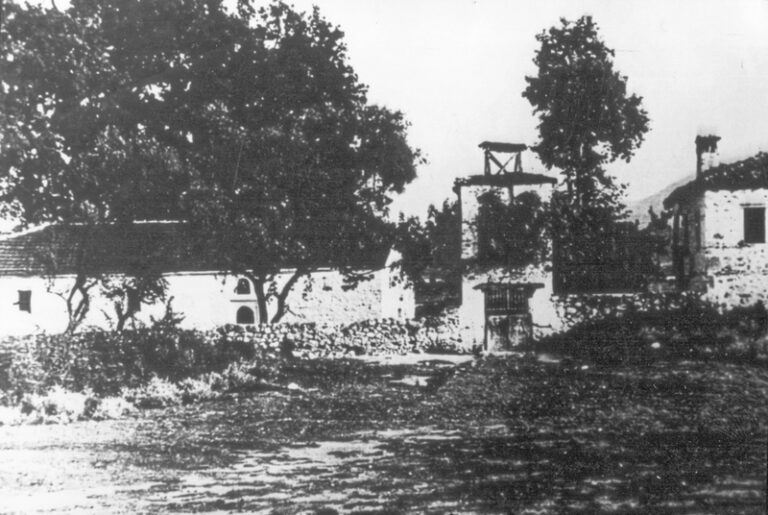 Despite the fragmentary condition of the inscription, it is obvious that the content concerned a treaty between the king of Macedonia Philip V (221-179 BC) and the Lysimachians. In the surviving text Philip and the Lysimachians agree that both parties should not form an alliance with others who would be hostile to them. There follows the oath to the gods preserving only the names of Zeus and the gods of Samothrace.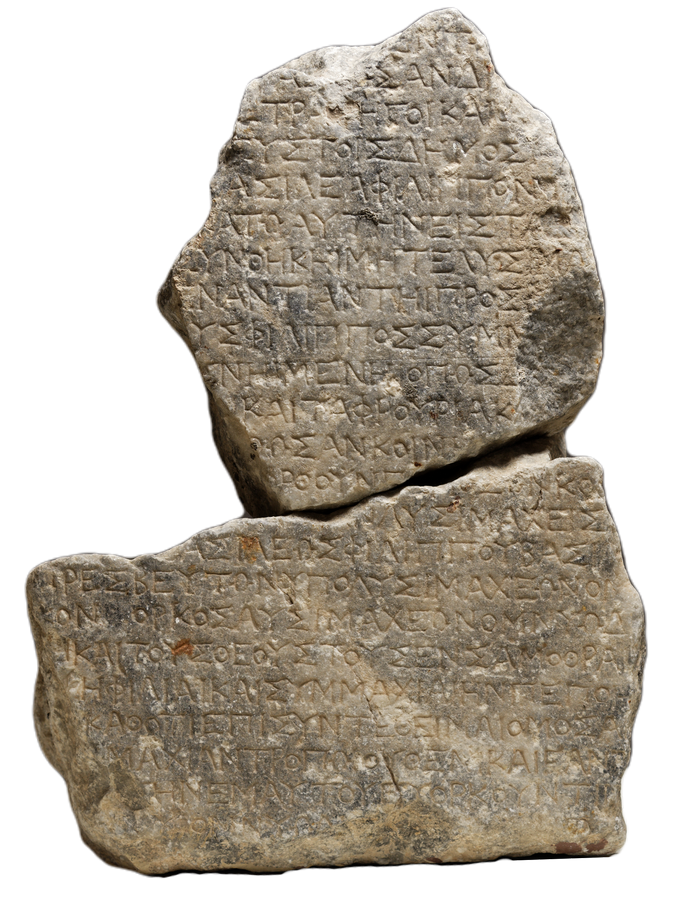 Lysimachia was founded by the king of Thrace Lysimachus in 309 BC. After his death in 281 BC, due to its strategic position in the Hellespont, the city was claimed by many rulers and fell under the dominion of various "great powers". The turbulent years of the 3rd c. BC., as well as the fate of Lysimachia is narrated by the historian Polybius. In 202 BC, according to the historian, Philip took the town from the Aetolians to protect it from the invasions of the Thracians, "in order not to be disturbed by the Thracians" (Polybius 18: 4-5).
There is no doubt that the inscription, which is an important historical document of the Macedonian kingdom, originally stood in the sanctuary of Zeus Olympios. After the occupation of Macedonia by the Romans and the abandonment of the sanctuary, the stone remains were reused for the construction of buildings in the city. According to Professor Pandermalis, a third fragment of the same inscription was found in 1975 during the excavation in the northwestern part of the Roman forum of Dion. Perhaps in recent years, the locals have also found the other two fragments in the same area and then used them as building material in their church.
As we see, in this example the repeated use of the ancient stones reaches until the beginning of the 20th century.
Bibliography:
G. Oikonomos, Επιγραφαί της Μακεδονίας, Athens 1915, 2-7 (αρ. 1).
Parthenios, bishop of Kitros, Περιγραφή κυρίως εννέα ετών Τουρκοκρατίας της περιφερείας Επισκοπής Κίτρους από του 1903-1912, Athens 1918, 5, 109-112.
D. Pandermalis, «Δίον», Αρχαιολογία 33 (December 1989) 12.
D. Pandermalis, Δίον. Η ανακάλυψη, Athens 1999, 56.
D. Pandermalis, «Inscriptions from Dion. Addenda et Corrigenda», στο: H. J. Dell (ed.), Ancient Macedonian Studies in Honour of Charles F. Edson, Thessaloniki 1981, 286.
M. B. Ηatzopoulos, Macedonian Institutions under the Kings, Athens 1996, II, 21-32 (no.3).